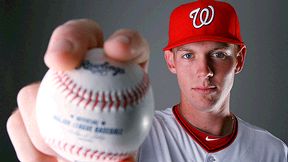 Unless you don't watch any news whatsoever, you heard that the Washington Nationals debuted the most talked about pitcher maybe ever in MLB history in Stephen Strasburg. Now, I'm not going to speak about his remarkable debut or his ridiculous curveball and fastball. But what I will talk about is a big reason why the kid got to be where he is.
Strasburg was not highly recruted for college ball. In fact, most players of his caliber are drafted after high school. He wasn't and ended up at San Diego State with the legendary Tony Gwynn as head coach. Strasburg was fat, he could only hit the 80's with his fastball and couldn't even run sprints with his team.
When he finally found the weight room that year, he began his progression into the pitcher he is now. The following is an excerpt from a CBSSportsline article by Scott Miller on April 28, 2009
"Strasburg's is the most fun kind of legend, because it's grown from the ground up and taken nearly three years to germinate. He was not heavily recruited while at West Hills High School in suburban San Diego, partly because his fastball wasn't even a training-wheels model of what it is today and partly because, back then, he mostly was viewed as a slacker.
It was SDSU pitching coach Rusty Filter, now in his 17th season on the job, who saw some potential when Strasburg was in high school.
"I thought he was average," Gwynn says. "I really did. Rusty was the one who assured me we should take him."
"Just to set it right, we have to convince Coach Gwynn on everybody," Filter says, chuckling. "He threw 86-to-90 with a good breaking ball, so it wasn't like there wasn't much to work with already.
"I felt like he could have some impact in middle relief."
The early days weren't pretty. Strasburg was overweight, out-of-shape and mostly spent his first few days of conditioning at the school throwing up. Filter told him he was soft, wouldn't compete, wouldn't make it, "everything negative I could say."
There wasn't much verbal reaction from Strasberg, but there was the best kind of reaction. He worked. And worked. And that, combined with his intelligence -- he's already got 30 hours completed toward a degree in public administration and is on track to graduate in 3½ years -- has been a splendid combination.
Despite the hoopla, Strasburg keeps his focus on his college team. (US Presswire)
"I've always had confidence in myself," he says. "You're not going to wake up one morning and start throwing the ball eight, 10 mph. higher than you were. I've worked, day-in and day-out."
He was the team's closer as a freshman and joined the rotation last year. His fastball velocity jumped as he got leaner and stronger, from the low-90s as a freshman to the mid-90s that spring to 98 in the summer before his sophomore season while pitching for the Torrington (Conn.) Twisters of the New England Collegiate Baseball League. He first hit 100 during the fall of his sophomore year.
"I've had numerous requests for his workout program," Filter says. "It's incredible. I've probably had 50 of them this year. Grandmas for their grandsons. From parents. From kids. It's been an array of people."
Filter, not interested in attaching himself to Strasburg's success, doesn't respond.
"I'm not going to do that," he says. "It's the same program for every pitcher on the team. He has some things he does, but it's baseball. There are no secrets."
For the full article,
click here